Dust Free Ceramic Tile Floor Removal in Orlando, FL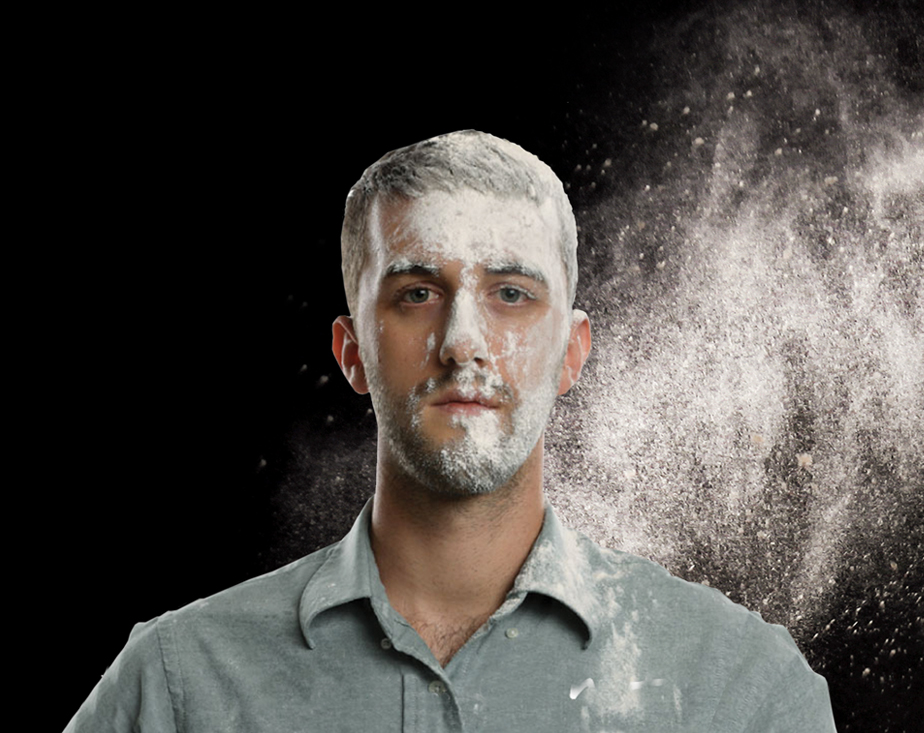 DustRam® has developed a system for the DUST FREE REMOVAL OF FLOORING which will keep customers, employees, and contractors safe. 
We are the only DustRam® Factory Certified Company authorized to use the DustRam® System Equipment for DUST FREE TILE REMOVAL in Orlando, FL. 
If you are looking for dust free flooring removal in Orlando, Florida, look no further than DustRam® Orlando! Contact us today for more information about our services.
Schedule Your Dust Free Flooring Removal, Today!
If you are ready to schedule your flooring removal project, contact our team today. We are available to answer any questions you may have.

Our Dust Free System Prevents Silica Dust Exposure From the Flooring Removal
DustRam® began in 2008 when its founder, Jack King, began developing a method to collect dust while chipping tile. He successfully invented and patented the DustRam® and began production. From there DustRam® has invented and developed multiple proprietary attachments and pieces of equipment which collectively make up the most comprehensive system for dust-free flooring removal in existence. DustRam® currently owns +26 US patents and is widely considered the industry leader.
Ready to Book Your Dust Free Flooring Removal?

DustRam® Captures 99.99% of the Silica Dust & Contains It
Protect Your Family From the Diseases Caused By Silica Dust Inhalation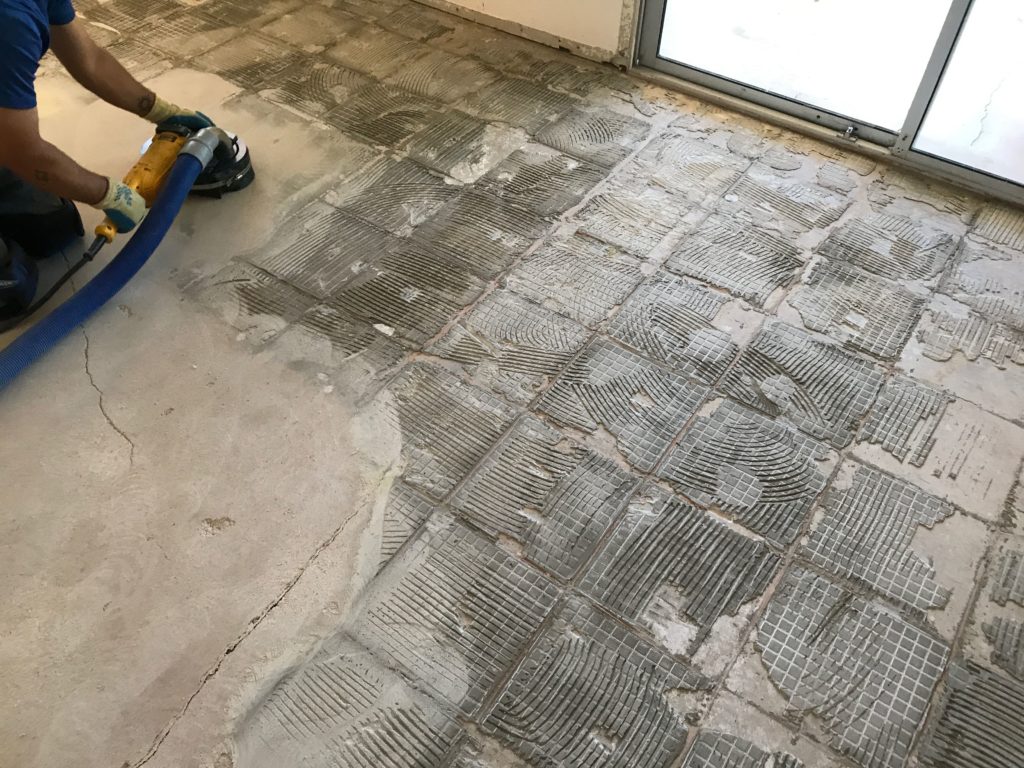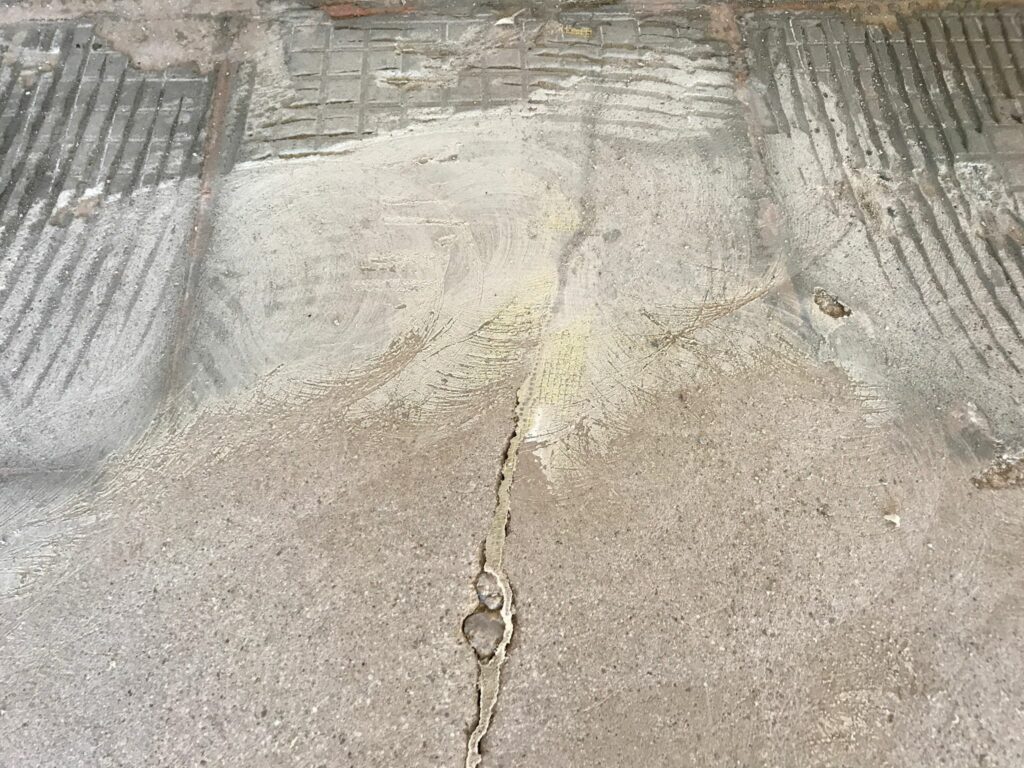 In 2017 OSHA released its Final Ruling on Crystalline Silica Dust Mitigation establishing the responsibility of companies like ours to stay below the Permissible Exposure Level (PEL) which is outlined in the standard. This Standard was put into place due to the respiratory risk of breathing fine particulates like Crystalline Silica. If it is bad for occupational workers to breathe in the high concentrations of silica dust found in enclosed spaces, then it is bad for our customers to breathe as well. 
After all, THE LUNGS ARE THE FINAL FILTER! We are proud to say that the DustRam® System is compliant with the above standard which has been revised and is now known as OSHA's Respirable Crystalline Silica Standard for Construction by keeping the working environment below the PEL and by having industrial-grade dust shrouds on each and every piece of equipment throughout the flooring removal process.
We, Chip Tile, Collect Debris, & Grind the Thin-set, Dust-Free.
The DustRam® System allows us to chip the flooring, collect debris, and grind the thin-set down to the slab; completely dust free, all while remaining below the PEL. The system can also be used to remove Saltillo, Wood, and Natural Stone floors, such as Marble, Travertine, Slate, and Flagstone.
An added benefit of grinding away thin-set is that with proper profiling, we will help to ensure the proper bonding recommended by ANSI A108 and the Tile Council of North America, by creating anchor patterns on the concrete slab. Our system is designed to give you peace of mind by prepping the floor with proper scarification processes, which will help to ensure the new floor will adhere to the substrate properly. You will be thrilled that there is no need to pay for professional cleaners after the ceramic flooring removal process.
Speak With a Professional Today
Traditional Tile Removal VS Dust Free Tile Removal
TRADITIONAL TILE REMOVAL

DUSTRAM® SYSTEM TILE REMOVAL

 

EXPOSURE TO DUST

The crystalline silica dust that is created during the removal process permeates every single in of your residential property. Inevitably so, the dust will make its way into closed cabinets, air ducts, drawers, and more. This results in having to contract a cleaning company to remove the dust particles from the inside of your home which can cost you a lot of time and money.

NO DUST EXPOSURE

The DustRam® system catches every last bit of dust that was created during the removal process. The DustRam system has fourteen patents that allow our team to not miss any particles. This ultimately means that you won't have to hire a cleaning company to clean up the mess that comes with the traditional tile removal process. That is why dust free tile removal is the way to go!

 

 

HEALTH CONCERNS

Crystalline Silica is a dangerous dust that is created during the traditional tile removal process. The dust can cause severe respiratory problems and it has been classified as a lung carcinogen by the National Cancer Institute. The incurable respiratory disease or lung fibrosis is widely known as silicosis. This disease reduces lung function, scars lung tissue, and can cause tuberculosis. 

HEALTHY

The dust created during the demolition of your tile floors is captured completely. Dustfree tile removal companies like DustRam® use special vacuums to suck up the dust and harmful particle matter that protects the professionals, children, homeowners, and any pets in the home. 

CONCRETE SLAB IS DAMAGED

During the traditional tile removal process, thin-set is scraped off and this can leave pits in your concrete. Ultimately the slab is left poorly prepped for the floor installation process. With the clean tile removal method your subfloor is left smooth and ready for the installation. 

READY FOR NEW FLOORING

Our DustRam® tools allow our professionals to grind off leftover thin-set and catch any dust in the process. Scraping the thinset off is not something we have to do during the dustfree tile removal process. This means no thinset will be left behind, leaving your subfloor flatter, smoother, cleaner, and better prepared for the floor installation process. 

LOW TECH

There are contractors out there that will still show up to your home with chisels and sledgehammers to remove your tile. Many companies will use outdated methods leaving you with more work even after the removal of the tile. Save both time and money by hiring a company that specializes in clean tile removal instead. 

HIGH TECH – ORIGINAL AND PATENTED

With DustRam®, you will get experts with decades of experience in the flooring removal industry. We use modern technology and tools that enable us to not only get the job done efficiently but to also leave your home dust free!
---
Request Your Free Estimate
What are the Benefits of the DustRam® System?
 

Speedy-Fast Services

On average, dust free ceramic tile floor removal will take a day to complete. That's 3 times faster than traditional tile removal. Our demolition professionals use advanced technology to remove ceramic, wood, natural stone, and more, completely dust-free. If you are looking for a company that offers competitive prices and provides you with top-quality and speedy fast services, hire DustRam® Orlando, today.

A typical tile removal of 1000 sq ft will produce 600 lbs of dust. The dust will end up in kitchen cabinets, shoes, clothes, air ducts, draperies, furniture, ceilings, electronics, and more! You will need to hire a cleaning company to get rid of the dust particles left in your home from the traditional tile removal method. This is a problem you won't have to endure with dustless tile removal services. Make sure to check out our videos to see how our process works.
Top-Quality Services
There are no other contractors that have the ability to capture the crystalline silica dust that is generated from the chipping and removal of porcelain, stone, and ceramic floors. Additionally, with the use of the patented DustRam® equipment, the concrete will be flatter, cleaner, and better prepared for the floor installation. Our top-rated and high-quality services set us apart from the rest. We will remove your tile floors and leave your home dust-free. Visit our gallery for more pictures.
Choose DustRam® for Your Dust Free Tile Removal
DustRam® Orlando Offers Dust Removal of Different Flooring Types:
If you hire DustRam® Orlando, you can be confident in your selection of the best contractor for your clean tile removal project. With more than 8 decades of experience combined with our team members and the most technologically advanced DustRam® System tools and equipment, you'll see the same results our clients rave about in their customer reviews of our company. 
We offer the removal of the following types of flooring:
MEXICAN

CONCRETE PROFILING

CARPET, WOOD, OR VINYL

MICRO-TOPPING REMOVAL